Toyota Canada and its 2018 Dream Car Art Contest
April 27 2018, Marie-Andrée Boisvert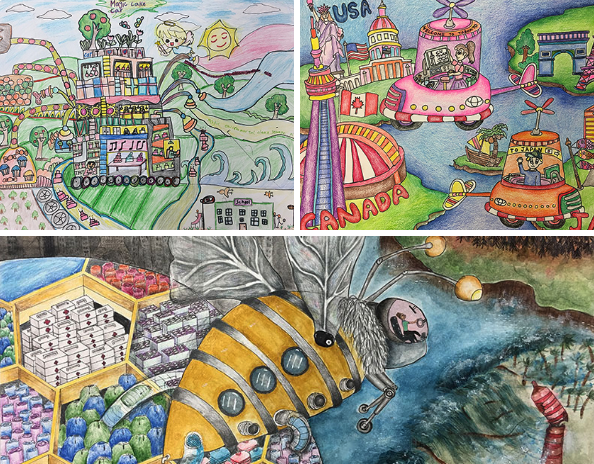 On April 12, Toyota Canada announced the finalists for its 2018 Dream Car Art Contest.
We relied on the know-how of great artists like children's books illustrator Geneviève Godbout and Camille Forget, Art Director at DentsuBos (an agency specializing in advertising, brand activation, design, brand identity, etc.) in Montreal.
What the contest revealed
In addition to showcasing our young people's talent, the competition revealed that if youngsters drew cars and their features, the cars of the future would clean the environment while driving. Among other things, they would fly over oceans and act as rescue vehicles and even mobile studios. The juries selected the drawings of 9 children in three age categories to represent Canada.
The competition will run until August for 30 global finalists who will be rewarded with a visit to Japan.
Some comments from our two main judges
Geneviève Godbout, children's illustrator: "I was very impressed by the quality of the drawings. I was expecting to find huge trucks and princess carriages. Instead, I discovered cars that clean oceans, house the homeless, plant trees, and so on. Young minds that imagined advanced mechanisms based on sustainability and recycling. Loads of imagination for the creation of a better and more colourful future. And one full of sun and rainbows."
Camille Forget, Art Director, DentsuBos: "If it was up to the children who participated in the competition, the vehicle of tomorrow would be autonomous and empathetic. I was struck by the altruism that was depicted in most of the drawings. Whether it's solutions to deforestation and pollution or promoting healthy eating habits, today's children are serious about imagining a better future. And judging by the number of drawings of self-driving vehicles, we'll have to get used to automation in our lives. In this area, the younger generations are already a few steps ahead of the adults.
I loved these children's bright, colourful and creative ideas. In all of their drawings, we see the same desire to make the world better through transportation."
In short, a secure future filled with hope. Congratulations to the contest participants and to this whole new generation!