The new 2018 Camry, a complete redesign
June 08 2017, Richard DesRochers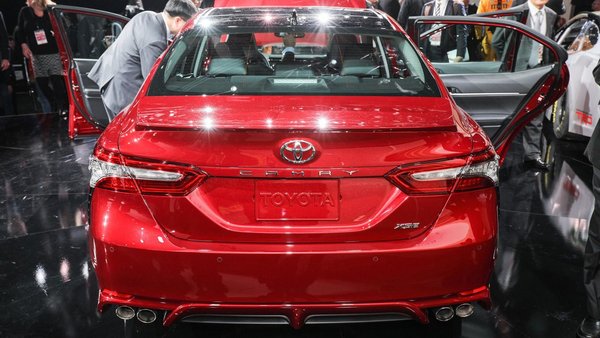 Seeing the new 2018 Toyota Camry, you'll be amazed by its wow effect!
Seeing the new 2018 Toyota Camry, you'll be amazed by its wow effect! From the outset, it should be mentioned that the Camry is not only a superb car, but also one of the best-selling cars in North America. Its reliability, comfort and above all its strong resale value make it a top seller for Toyota.
Many automotive experts and writers have said that the new 2018 CAMRY has been transformed from very practical, reliable vehicle to a styling leader with its modern cutting edge design.
Two models, two categories of buyers
In fact, the new2018 Camry has received a complete redesign. The XLE model is mainly intended for classic buyers, while on the opposite end, the XSE model is aimed more at buyers looking for sporty vehicles.
Both models come with a brand new chassis for more dynamic and precise driving. There is also a sportier suspension and better steering. In the Camry tradition, no compromise on comfort and reliability has been made.
Under the hood
With its new 2018 Camry, Toyota will offer three new types of engines. The standard 3.5L V6 is available with direct injection as an option, and a brand new 2.5L new-generation four-cylinder. The hybrid version will also be available for the2018 Camry.
Major innovation in 2018
For the year 2018 and especially for the first time in the history of Toyota, the2018 Camry will also be offered in two-tone paint. Indeed, with its black roof and the rest of the car in white, the new2018 Camry will look like a perfect sports sedan.
We especially love the technological advances and the modern evolution of this Toyota. However, Toyota has not forgotten to build on its reputation for outstanding quality reliability and durability, but with more sportiness in a refined and dynamic package.
Gallery