The family adventure with the 2019 Toyota Sienna
August 17 2018, Marie-Andrée Boisvert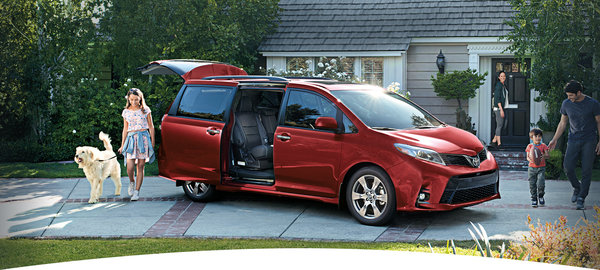 Panoramic glass roof, heated seats, captain's seats for 7-seater and 8-seater seating, power lifts, power sliding doors in addition to Toyota's state-of-the-art technology, with the 2018 Toyota Sienna you're driving, "Oh sorry" in a classy van!
Moreover, it is the only SUV available for all-wheel drive that offers a variety of comfort for all members of your family. It also incorporates the Toyota Safety Sense P advanced car safety technology suite, as well as a host of comfort and convenience features that promise to turn all your rides into fun adventures. Here's why, you must have this van.
The 2019 Sienna marks the end of boring vans
Despite their dark reputation as home-bodied vehicles, this new van rings the knell with its daring style, impressive comfort and even display of its performance. In short, the 2019 Toyota Sienna is ready for anything from long trips or ridesharing, carrying luggage, sports equipment or office equipment to a small business, and anything Canadians can imagine. And since Sienna is the only all-wheel-drive vehicle in Canada, it also offers unparalleled safety benefits in our legendary storms.
Specifications for the new 2019 Sienna
As a novelty, all Sienna models come standard with Apple CarPlay, which provides an intuitive connection between an iPhone and the vehicle's built-in display. This feature adds to Entune 3.0 Audio to provide you with a van that also offers an impressive array of connectivity. Notably, information on the state of traffic and weather, Slacker, Yelp, sports scores, stock quotes, fuel prices and more, as well as navigation tools via smartphone in the form of GPS Scout Link.
If you are the regular driver of the family and you want to weld fun and need, you must have a test drive. To do this, please contact our team at 514 453-2510 to reserve your time slot.
Gallery