The all-new 2019 Toyota Tacoma TRD Pro, a big step ahead of its competitors!
June 29 2018, Richard DesRochers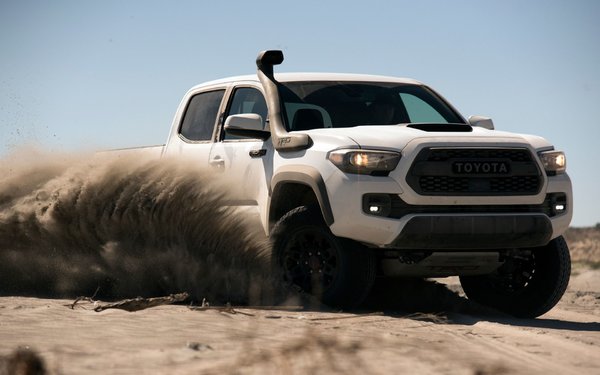 Many folks don't automatically think of Toyota when it comes to pickup trucks, but they should change their minds according to the prestigious magazine Top Speed.
The trio of Toyota vans were updated for 2019. The changes are minor, but they keep the vehicles ahead of their competitors. What is most noticeable is the new outdoor air intake to prevent dust and dirt in the filters. While it's an optional air intake, it's a rare feature, now on the all-new 2019 Toyota Tacoma TRD Pro. The other pickup trucks on the market are generally quite similar in design.
What Top Speed magazine is saying about the Tacoma
The well-known magazine states that the pickup retains all the improvements in appearance that are found on the previous model. There is a TRD shift knob as well as TRD Pro logos on the floor mats and front seat headrests. Toyota's Entune infotainment system with navigation and App Suite is standard here, as is the JBL Premium audio system.
The two-inch Fox Racing shocks and improved suspension components will remain in 2019. The shocks are powered by 46 mm pistons and have eight bypass zones along their length. Five of the zones are for compression and three for rebound. Basically, the more the shock is compressed, the more difficult the compression becomes. This gives the shocks a soft, supple feel on normal bumps and protects the truck from bumps and even jumps.
The design side
As mentioned above, the TRD tubular socket accessory is a new option, which goes from the intake position of the stock inside the front right wheel to the top of the upright. Toyota describes this component as being advantageous for dusty and dirty conditions, as it draws engine intake air from the cleaner's environment to windshield altitude, rather than close to the right front wheel. We don't know yet and are waiting for answers from Toyota regarding whether or not this plug is waterproof and will allow the brand new Toyota Tacoma TRD Pro to dive into deeper waters.