The all-new 2019 Corolla Hatchback
April 13 2018, Marie-Andrée Boisvert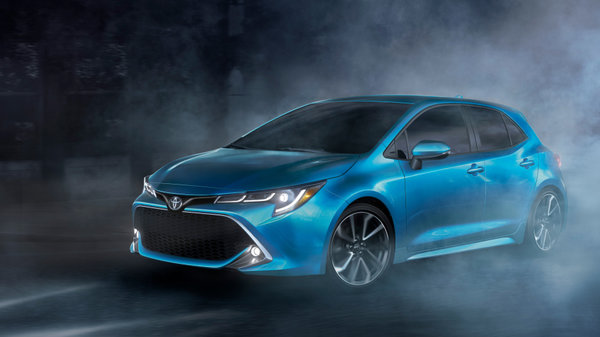 The famous Consumer Review magazine (the American counterpart of our Protégez-vous magazine) reports that the new 2019 Corolla Hatchback offers truly sporty driving.
It provides more power than its sister model, the Corolla IM, and responds very well on winding roads. A Corolla with spicy hot lines, equipped with a four-cylinder 2.0-litre engine with168 hp is 31 horses more than the IM. The best part is that it also comes with the full gamut of Toyota safety. Here are some highlights of this beautiful multipurpose car.
Road behaviour
Some experts say they'd like the car to have more power, but that's beside the point. More power means less savings, so they don't understand the targeted audience.


For example, the new 2019 Corolla Hatchback is equipped with a new transmission with a fixed-ratio first gear to give it a more natural feel and to hide some of the quirks of a continuously variable transmission. Car specialists agree that it's pleasant to drive and that the transmission is very well adjusted. They also say, and it's a tribute to the new 2019 Corolla Hatchback, that it manoeuvers very well on winding roads.
The interior
The driver's seat features a bidirectional lumbar support system in the XSE, a nice touch in this category. The driving position is on the low side, but there is a generous height reserve, and the armrests of the door and center are well- located for comfortable long trips.


The infotainment touchscreen is conveniently situated within driver's reach. It's simple to use, with a large, easy-to-read text. The Apple CarPlay feature and Amazon Alexa integration are standard. In terms of passengers, the back seat is comfortable and suitable for adults.

But the best part of all is that in addition to its favourable price and safety advantages, the new 2019 Corolla Hachtback offers true driving pleasure. It will be available soon! To try it out when the big day comes, contact our team at 1-855-398-9581, to reserve your appointment.
Gallery