The 2020 Corolla Hybrid has arrived at Ile-Perrot Toyota
May 21 2019, Stéphanie Lacroix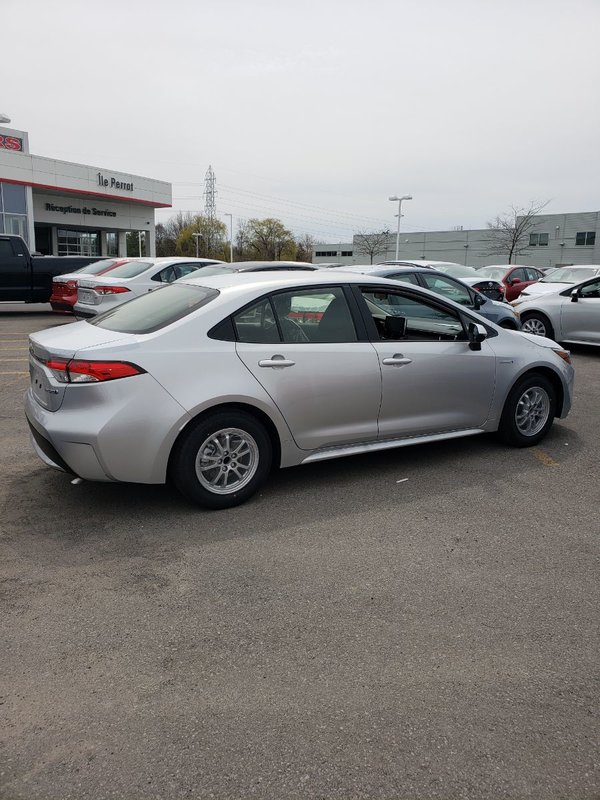 The best-selling car in history is now available in a hybrid version. The 2020 Corolla Hybrid marks the beginning of a new chapter for this sedan, which has sold more than 45 million units worldwide since 1966.
Since its unveiling at the Los Angeles Auto Show last December, the 2020 Corolla Hybrid has been much talked about. People interested in hybrid mobility were looking forward to it. Finally, the 2020 Corolla Hybrid has arrived at Ile-Perrot Toyota just recently.
The 2020 Corolla Hybrid demonstrates Toyota's commitment to meeting the demand for hybrid sedans with a wide selection of styling and driving experience.
The newest sedan in the Toyota Hybrid family has an average fuel consumption of 4.5 L / 100 km.
The Corolla's hybrid powertrain combines a 1.8-liter, 4-cylinder gasoline engine and two electric generator motors, coupled with an electronically controlled infinitely variable transmission, to deliver instant torque and 121 horsepower.
Built on the platform of Toyota's new global architecture (TNGA), the new Corolla redefines the concept of driving pleasure. Extended lanes, low center of gravity and ultra-stiff structure - combined with a multi-rod rear suspension and active cornering control - provide exceptional stability and agility.
Toyota Hybrid Technology
Unlike electric vehicles, Hybrid Corolla never need to be plugged in. They recharge on the road, thanks to innovative systems, such as regenerative braking, which captures and transforms energy into electrical power which is then stored in the hybrid battery.
Toyota hybrids can operate in total transparency in all-electric mode, gasoline mode, or a combination of both. Everything happens automatically, without the intervention of the driver. The result? A powertrain that produces 70% less emissions than conventional gasoline engines or diesel engines, without sacrificing performance and without the need to connect the vehicle.
Hybrid engineering features can help reduce normal wear, so the maintenance schedule for a hybrid model is almost identical to that of a gasoline Corolla.
An optimal driving experience
Elegant. Dynamic. Athletic. That sums up the spirit of the 2020 Corolla Hybrid. In the cabin, comfort and technology go hand in hand. With the Premium version, the seats are covered with SofTex leather. The touch controls are easy to use and instinctive.
The all-new 2020 Corolla works with Apple CarPlay, a simple and smart way to use your iPhone while driving.
On the security side, the Corolla goes even further. All 2020 models are equipped with Toyota Safety Sense 2.0 as standard. This suite includes a variety of active safety features designed to enhance your protection, help boost your alertness, and support you in driving decision-making under various traffic and emergency conditions.
The Corolla Hybrid 2020 is available starting at $ 26,535.
If you are interested in buying a hybrid vehicle, come meet our team at 2100 boulevard du Traversier in Pincourt. Our experts will be able to answer all your questions and offer you a test drive.