The 2019 RAV4 is coming soon at Ile-Perrot Toyota
November 23 2018, Stéphanie Lacroix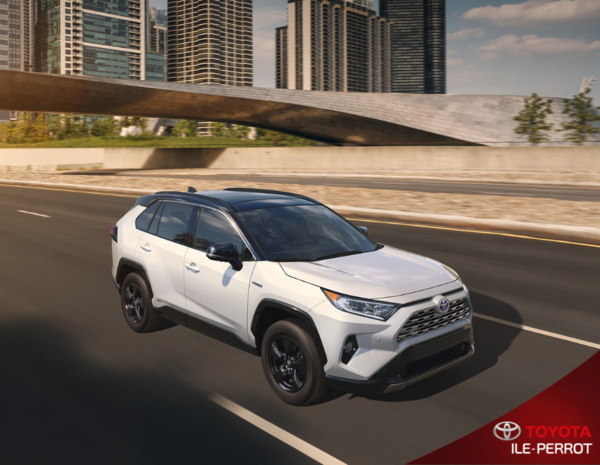 The 2019 RAV4 compact SUV will be available in the coming weeks at Ile-Perrot Toyota. Since its unveiling earlier this year, the 2019 RAV4 has been catching the attention of car experts, who see it as the next model to dominate its class.
Since it was launched on the market in 1996, the RAV4 has experienced a constant evolution. The 2019 edition is a landmark in the history of the popular Toyota model, as it reaches a certain maturity with a more robust and confident style that will undoubtedly allow it to dominate the segment of compact SUVs.
The RAV4 will be available in different models: the Trail (off-road), the high-end Limited and the sporty XSE hybrid. Each offers more character in design, more robustness and more comfort, for an unforgettable driving experience.
Toyota proudly insists that the 2019 RAV4 will be assembled in Canada at the Toyota Motor Manufacturing Canada plant in Ontario.
Build-in techonology
The 2019 RAV4 offers a variety of technology components that were designed to optimize the driver experience and the safety of all passengers. In addition to the standard EnTune 3.0 system, the vehicle is also equipped with the standard Toyota Safety Sense 2.0.
At the wheel of the RAV4, the driver quickly notices the excellent visibility he enjoys. The repositioning of mirrors contributes to this, as well as the digital display of the image in the rear-view mirror. The interior offers a perfect balance between comfort, connectivity and refinement. Trunk loading is facilitated by a sensor that opens the door with a foot movement.
The RAV4 2019 is designed for the reality of winter in Quebec. It can be equipped with windshield and sprinkler de-icers, a heated steering wheel and heated benches at the front and back.
Under the hood, the RAV4 features a 2.5L 4-cylinder in-line engine and hybrid powertrains that combine power and fuel efficiency.
In gasoline or hybrid models, the RAV4 is the perfect vehicle for a city outing, a country trip or an off-road adventure. Follow us for to know more about the availability of the RAV4 2019 at Ile-Perrot Toyota.
Featured photo : Hybrid model.