The 2018 Toyota Sienna, an evolving family car
November 24 2017, Marie-Andrée Boisvert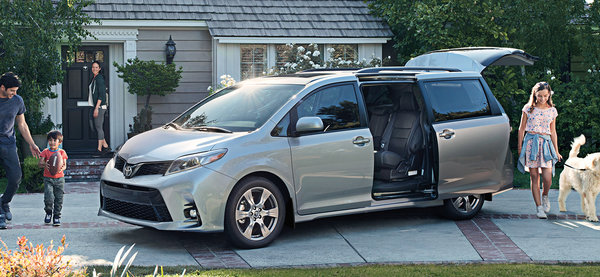 There's nothing more to say than "wow" when you consider all the new features of the new 2018 Toyota Sienna!
Also, to protect your precious family, the 2018 Sienna is equipped with the latest active safety technology suite, the Toyota TSS-P, and is now available with 4-wheel drive.
As proof of its reliability, Sienna received an overall score of 5 out of 5 from the NTSA and, based on the IIHS rating, the highest rating for its category. In addition, Toyota's Toyota Safety Sense P (TSS-P) safety suite comes standard with automatic emergency braking, forward collision warning, adaptive cruise control, lane departure alert with steering assist, automatic high beams, and pedestrian detection.
The 2018 Toyota Sienna at a glance
The 2018 Toyota Sienna can accommodate 8 passengers comfortably. It also boasts a 4.2-inch TFT multi-information display, 5 additional USB ports, an optional 360-degree Vision camera system and a rear entertainment system. The revised front fascia refreshes the 2018 Sienna's style. It's powered by a 3.5-litre V6 engine producing 296 horsepower and 263 lb-ft of torque, a motor equipped exclusively with an eight-speed automatic transmission.
The 2018 Sienna's storage space comprises 29.1 cubic feet behind the third row, 87.1 cubic feet behind the second row, and 150 cubic feet behind the front seats. The front-wheel drive models are designed to tow up to 3,500 pounds.
What we like about the 2018 Sienna
All parents share the same needs: safety, comfort and durability at an acceptable price. That's exactly what the Sienna has to offer. You can buy it for just under $35,000! So, no need to make a hole in the family budget.
Contact us at 514 453-2510 to book your test drive!
Gallery