The 2017 Toyota Yaris, a superb first car!
May 30 2017, Marie-Andrée Boisvert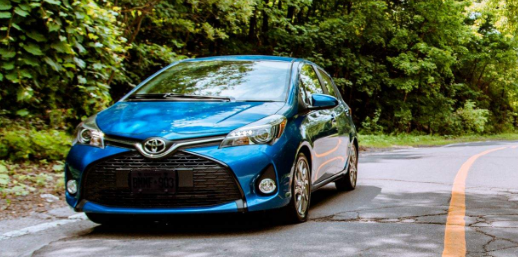 Toyota's stellar reliability and reputation of are unquestionably on top of the automotive world...
Toyota's stellar reliability and reputation of are unquestionably on top of the automotive world. It's what's expected when the Japanese manufacturer reinvents safety, handling and driving pleasure in one combination. Moreover, its price/value/quality proposition makes Toyota the manufacturer of choice, with, among others, the new 2017 Toyota Yaris, a truly key player.
Toyota Yaris… no compromises in safety
First, it should be noted that the new2017 Toyota Yaris is being talked about a lot thanks to Toyota's new safety features. As you know, Toyota's new standard was to equip all 2017 models with its revolutionary safety feature, Toyota Safety Sense. The latter includes automatic headlight control, lane departure warning and forward collision warning with automatic emergency braking.
Moreover, given its super-attractive price, automotive specialists even recommend purchasing the LE version of the2017 Yaris. It's better equipped, with larger tires that give it a more sporty appearance, better seat upholstery and a leather-wrapped steering wheel; the LE really does give you more for your money.
The advantages of the Toyota Yaris
Besides its driving and safety advantages, you also get Toyota's legendary and excellent resale value. Here's what we are sure you will love about the 2017 Toyota Yaris:
As mentioned, the outstanding resale value.
a Very economical 1.5L four-cylinder engine (6.3 l/100 km, highway)
Its 545 km range
Its base price of $17,464, super-affordable
The complete suite of Toyota Safety Sense safety features.
5-speed manual transmission for those who enjoy having fun driving
With the new 2017 Toyota Yaris, there's no need to buy a used car as your first car. Experience your first moments of freedom at the wheel of an affordable new car with state-of-the-art safety features and legendary reliability.
For a test drive, contact us directly at 1 855 398-9581!
Gallery