The 2017 Toyota RAV4 Hybrid Awarded Canadian Green Utility Vehicle of the Year!
April 13 2017, Marie-Andrée Boisvert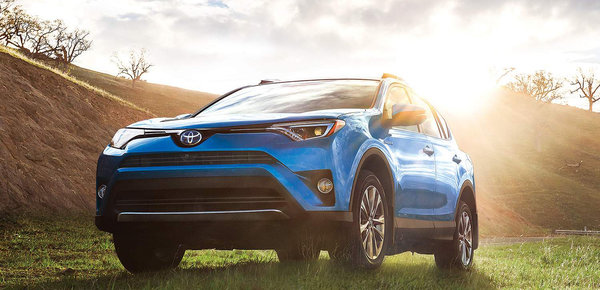 A major award from the AJAC awarded to the Toyota RAV4 hybrid 2017!
As part of the opening ceremony of the Vancouver International Auto Show on March 28, the Automobile Journalists Association of Canada (AJAC) awarded the 2017 Toyota RAV4 Hybrid the Canadian Green Utility Vehicle of the Year!
An intensive competition
Winning the best Canadian Green Utility Vehicle Award for 2017 is very significant. First, to qualify, vehicles must meet a set of predefined requirements such as fuel efficiency, and powertrain engineering advancements. All competing vehicles are then tested each fall by well-known Canadian automotive journalists.
So the approximately 60 journalists score the vehicle objectively according to cargo space, braking and emissions. Voting journalists cast a separate vote, concentrating on energy characteristics: distance travelled, recharge or refueling time, and price.
The 2017 RAV4: The Wow effect!
The wow effect comes from the fact that the 2017 RAV4 Hybrid comes with the Safety Sense P safety package and new colours. Its modern styling cues and quality fit and finish in the cabin are second to none in its class. Moreover, with its superb reliability, the RAV4 Hybridassures excellent resale value.
The fun is in the details
The new 2017 RAV4 Hybrid is equipped with all of the modern driving elements. The cockpit is both spacious and luxurious with the incorporation of many high-end materials. The new sporty silhouette gives the vehicle modern edginess in addition to driving an eco-friendly and efficient crossover.
In everyday life, you like its footsweep activated hatchback, and its 2080L cargo capacity. This hybrid vehicle is truly ideal and is sure to give you unparalleled driving pleasure and peace of mind In terms of reliability.
Gallery