The 2017 Toyota C-HR is revealed!
August 31 2016, Marie-Andrée Boisvert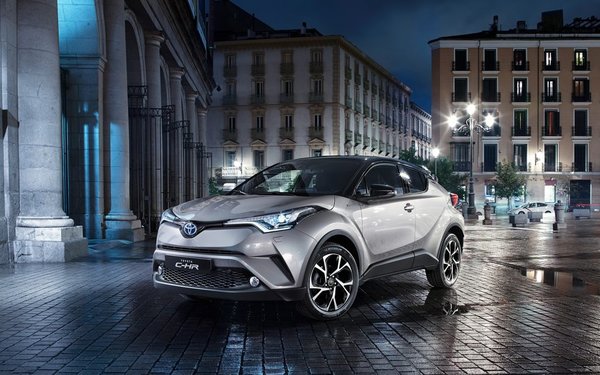 The 2017 Toyota C-HR will undoubtedly be the new SUV to drive and experience!
The 2017 Toyota C-HR will undoubtedly be the new SUV to drive and experience! It stands out from the competition with, among other elements, its exclusive design and breathtaking functionality! Previously sold under the Scion brand in the U.S. and Canada, it's with excitement that the Japanese manufacturer will launch its new prodigy under the Toyota brand! Let's take a closer look at this urban SUV that opens the door to a new market of drivers looking for quality and reliability.
The 2017 C-HR is primarily a small utility vehicle perfect for the urban setting as well as the countryside, with a very original design. Its avant-garde design appeals to a clientele of young professionals looking for a distinctive vehicle, and for young families as well.
It's direct competitors will be the Honda HR-V, Mazda CX-3 and the Jeep Renegade and it will offer a distinctive driving experience. Its lines are closer to those of a coupe. In terms of innovation, its rear door handles are hidden near the roofline, making it an SUV that's out of the ordinary!
It should also be noted that the 2017 C-HR will be offered in Europe with a turbocharged 1.2-liter engine with 116 horsepower, in tandem with a manual six-speed transmission or automatic or a CVT. A hybrid engine will also be offered, producing 122 horsepower and allowing consumption as low as 3.7 l/100 km. As for the version that will be sold here, Toyota has yet to confirm the type of engine for the U.S. and Canadian markets.
"The manufacturer recently unveiled some images of its interior, where we first notice a central panel that tilts toward the driver. It will include a large touch screen, which will house the controls for the audio system. Several upscale features such as a heated steering wheel, pre-collision warning, lane departure warning and leather seats will be offered, at least in Europe," said auto columnist Michel Deslauriers.
In the coming months, Toyota will be providing more information on the 2017 C-HR regarding the specifications and performance of the vehicle that will be produced for our market. Stay tuned!
Gallery