Telenav and Toyota Launch Scout GPS Link
August 18 2017, Marie-Andrée Boisvert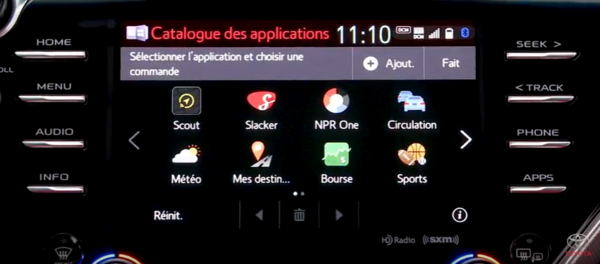 On August 15, Toyota announced the launch of Scout GPS Link, a new product or rather a new application propelled by Telenav's Open Street Map platform.
With Telout's Scout GPS Link, the vehicle's multimedia screen = becomes an on-board navigation system when connected to a smart phone and through cloud technology. The application allows drivers to easily transfer the information displayed on their mobile device to their vehicle's multimedia screen. It can be downloaded free of charge from Apple's App Store® or from the Google Play ™ store for Android ™ phones.
User-friendly functions
In addition, the same Press Release outlines the benefits of using the GPS Link Scout. Here are a few:
1. Fully interactive animated map providing real-time data on where you'redriving.
2. Single Smart Searchfield for easy destination entry.
3. Navigation with traffic data and voice instructions providing a fast and safe route.
4. Mapping updated regularly with enhancements by the OpenStreetMap® (OSM) community and the enhanced Telenav OSM platform, whichadds essential navigation data.
5. Real-time scheduled arrival time with direct access to the home screen for frequent destinations such as residence or work.
6. Voice recognition integrated with Toyota's voice touch command for safe driving.
7. Integration with other Entune 3.0 applications allowing users to easily launch the navigation function without having to leave an application or re-enter coordinates.
8. Transparent connectivity between a mobile device and the vehicle with Xevo™ Engine Link.
The launch of Scout GPS Link in Canada is a continuation of Telenav's close relationshipwith Toyota Motor Corporation. Many Toyota vehicles in the U.S.already use Scout GPS Link, including five popularLexus models. Initiallylaunched on some Toyota 2016 vehicles and then on Lexus models in 2017, Scout GPS Link is the first imported navigation solution based on Telenav'simproved OSM system.
In closing, an interesting fact is that Toyota operates two production plants in Canada. These plants have already produced more than 6 million vehicles, including models that are highly valued by Canadian consumers, such as the Toyota RAV4, the Toyota Corolla, and the Lexus RX 350 and RX 450h hybrids.