New features for the 2019 lineup of the Toyota Prius
February 05 2019, Stéphanie Lacroix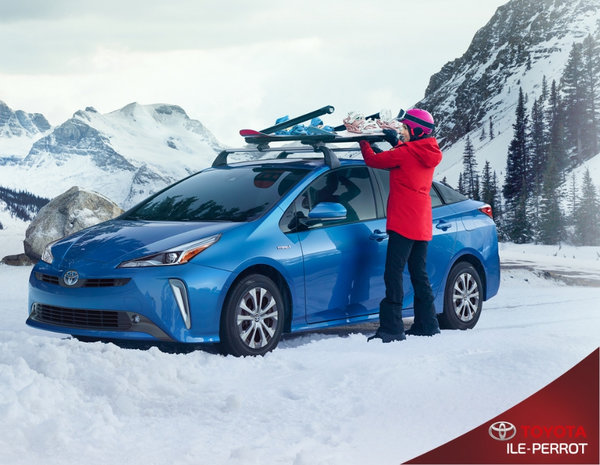 For the 2019 generation of its popular gasoline-electric hybrid vehicle, Toyota is offering a brand new, innovative AWD-e and basic MSRP that will make the Prius a must-have.
While the front-wheel drive version will be offered with a base MSRP of only $ 27,990, the AWD-e version will be offered starting at $ 28,990. The Prius becomes at the same time the first hybrid passenger car to transmit in a controlled manner the motive power to all four wheels.
Since the price of the AWD-e version is so low, Toyota anticipates that this version will account for two-thirds of Prius sales this year.
"We're enhancing all Prius models with additional features and fresh styling for 2019 – but the big news is the combination of Prius hybrid performance and Toyota's state of the art electric all-wheel-drive system – AWD-e," said this week Cyril Dimitris, Vice President of Toyota Canada.
A well-equipped hybrid

The 2019 Prius is built around the Toyota New Global Architecture (TNGA) – a design and engineering system that closely integrates body and powertrain development to deliver bolder styling, better handling and efficiency, and superior comfort and safety.
All Prius 2019 models will receive new design elements, a rejuvenated interior, better cargo space, state-of-the-art technology and, of course, the Toyota Safety Sense P system. Front-wheel drive models consume just 4.4 L / 100 km, and 4.7 L / 100 km for the AWD-e models. (City/Highway combined.)
Under the hood
The new Prius AWD-e models feature a newly-developed Nickel-Metal Hydride battery designed to provide excellent performance in cold-weather conditions, plus high-torque electric motors on both axles. These motors deliver on-demand all-wheel-drive performance, and the AWD system is designed to automatically revert to FWD performance when it's not needed to maximize fuel efficiency.
In store, find out about the front-wheel drive and AWD-e versions with the Technology Package, which offers a long list of additional features. (Photo of the interior in the Gallery below: Prius 2019 with the Technology Package)
To learn more about the 2019 Prius that will arrive at Ile-Perrot Toyota this spring, take advantage of the incredible offers on the 2018 Prius, to discover the entire Toyota Hybrid range or test drive, meet our experts at 2100 boulevard du Traversier, Pincourt.
Gallery