Google is the only place where you can hit Chuck Norris and Toyota without too much danger!
August 24 2018, Richard DesRochers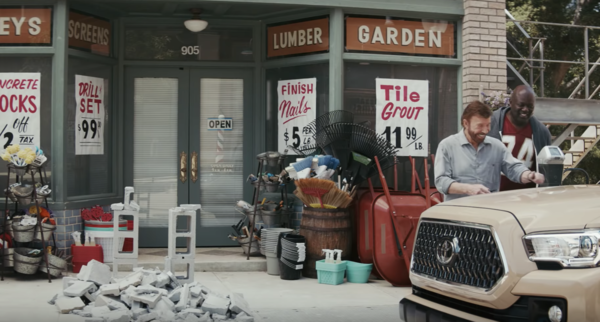 To boost its image of robustness, Toyota hired the legendary Chuck Norris to participate in the ads of the brand new Toyota Tacoma.
Indeed, as soon as this martial arts champion has put his signature on the front wing of Tacoma, the clicks on the advertisements knew a marked rise and now the Toyota Tacoma is now endowed with a new force.
An advertisement that makes you talk
In addition to the famous jokes about Chuck Norris, like the one who has managed to count to infinity twice, it's all the marketing genius behind the director Andreas Nilsson. It can be seen in this advertisement to trace his own face and other clichés just as fun.
The 2019 Toyota Tacoma
The Tacoma TRD Pro has been in existence since 2015 and reached the third generation of Tacoma in 2017 after jumping the 2016 model year. Now for 2019, the truck updates are working to better align the Tacoma TRD Pro with the new and very impressive Chevrolet Colorado ZR2. The Toyota Tacoma 2019 is Toyota's mid-size pickup. Available in 4X2 and 4X4, the Tacoma can be driven by one of the following two engines: 2.7L four-cylinder and 3.5L V6. It can tow up to 2948 kilograms.
The most remarkable novelty of the truck is certainly the snorkel that extends the life of the air filter when driving in dusty places.
Other new products available
In addition to the optional TRD Desert air intake, the Tacoma TRD Pro 2019 has some exterior enhancements. The front skid plate has been enhanced with red letters on the stamped TRD logo. The standard TRD muffler now has a black chrome tip. To try it is to adopt it, as Chuck would probably say!
Gallery