Good news for Toyota Canada: $1.4 billion for our plants!
May 04 2018, Marie-Andrée Boisvert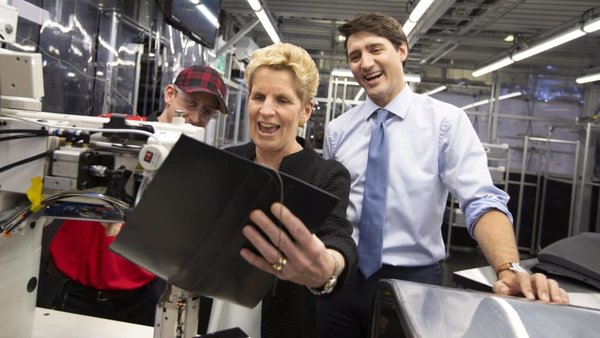 With $220 million in support from the Ontario provincial and federal governments, Toyota Canada will invest $1.4 billion to modernize its plants and automated facilities.
This means the creation of 450 new jobs as the result of the investment. In addition to the factories, Toyota also plans to invest another $200 million in additional research and development over the next 10 years.
An Announcement with Justin Trudeau
Early last month Justin Trudeau made the announcement at the Cambridge plant in Ontario. At the announcement, he was joined by Kathleen Wynne, former Premier of Ontario. The Cambridge and Woodstock plants will be the main beneficiaries of this investment.
Production of RAV4 and Corolla
The upgrade will enable better production of the Toyota RAV4 including new hybrid models. Currently, both plants employ nearly 8,000 people who produce nearly 500,000 vehicles/year. At the North Cambridge plant, the Corolla is the best-selling vehicle of all time.
Visiting the plant
The Visitor Centre is located in Cambridge, Ontario, near the intersection of Highways 8 and 401, about an hour west of Toronto and one hour east of London. The Visitor Centre is accessible only through Gate 2. You can book a tour by phone, fax or email.
The visiting schedule is based on production schedules. Sometimes the production requirements lead to the cancellation of a visit. We recommend calling the day before your visit and confirming the schedule and availability.
Each visit lasts about an hour. It begins at the Visitor Centre and includes a motorized tram tour in the southern welding and assembly section to the north, two of Cambridge's most visually impressive sections. Note that tours are conducted in English only.
For more information: http://www.tmmc.ca/en/plants/plant-tours