Five ways the Toyota Genuine Dash Camera can make for inspiring footage
December 19 2017, Toyota Canada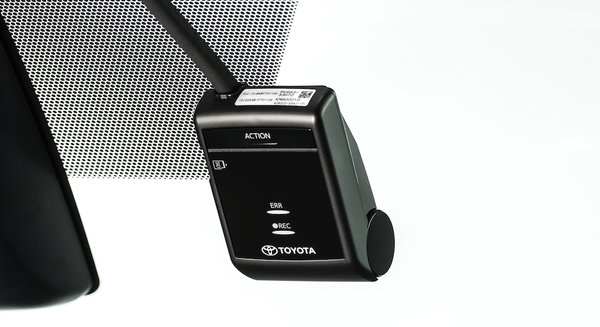 Have you ever considered getting a riash camera?
As a handy safeguard, saving footage could have real practical value, but when you're on the road, there is a whole world of other experiences out there for you to capture as well.
Because cameras like the new Toyota Genuine Dash Camera continuously record footage, you have the opportunity to film priceless moments on the road that go far beyond practicality.
The camera is built for preserving the memories of your drives – wherever you take your Toyota.
To give you some inspiration, here are five situations that are perfect for taking a dash camera along for the ride.
1. Capturing natural beauty
In Canada, we're spoilt for natural beauty. Whether it's mountains, coastlines or lakes, there is seemingly no end of natural beauty to drive past. The challenge is that when you're driving, you might not be able to stop and capture it safely.
Driving with a dash camera enables you to relax knowing that whatever scenery you encounter on your drive, you will have the footage to show for it.
To help you record the stunning landscapes at their most compelling, the Adventure Mode in the Toyota Genuine Dash Camera allows you to protect up to an hour of footage at the highest quality video setting.
2. Time lapse road trips
In a country this big, there is no end of potential epic road trips to take. Using time-lapse recoding, you can condense hours of driving into a much more manageable length video.
So if you're thinking about a drive across Canada, a dash camera can capture the whole thing coast to coast (so long as you periodically download and save the footage) , so you can relive the experience in a fraction of the time.
3. Driving meet-ups
Driving events and meets can be a great fun and, if you take a dash camera along for the ride, a way to capture exhilarating footage, too. The videos can easily be downloaded onto your phone via a free app, allowing you to share your experience.
The Toyota Genuine Dash Camera will be available on the Toyota 86 (pictured above) in 2018.
4. The in-car perspective
You don't just have to capture what's going on outside your vehicle. Thanks to the audio capability of the camera, you can record sound inside your car too. Whether it's in-car commentary or some road trip karaoke, you can add the soundtrack to all the inspiring footage you capture.
5. The unexpected
There's no telling what you might encounter on the road. Whether it's the non-stop vibrancy of city life, or the wildlife close encounters afforded by the Canadian outdoors, there's always the possibility of something incredible around the next corner.
When recording continuously, you're set to capture whatever the road has – and with the Toyota Genuine Dash Camera, you can protect 12 seconds of footage before an event and eight seconds after it.