Discover the new 2017 Corolla iM!
October 21 2016, Marie-Andrée Boisvert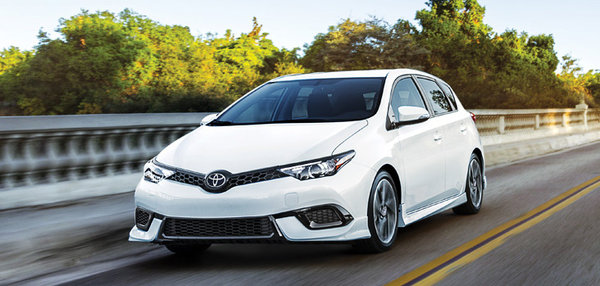 Year over year, the Toyota Corolla has been well known to consumers as a safe bet and a smart choice.
Year over year, the Toyota Corolla has been well known to consumers as a safe bet and a smart choice. This month, Protect Yourself magazine evaluated the latest arrival from the Japanese manufacturer, the 2017 Corolla iM, by conducting, in particular, a product evaluation that proved very successful.
Latest introductions
The 2017 Corolla iM series offers an unparalleled safety system, the Sense-C safety system that provides collision protection, automatic emergency braking and lane departure warning. This represents a remarkable advance in this class of car. Also standard, a luxury that everyone will enjoy: heated seats. With winter just around the corner, it's a significant advantage.
Modern, refined design
The 2017CorollaiM is powered by a 1.8 L engine, the same engine as the Corolla Eco. A 6-Speed Manual and CVT automatic are available transmissions. The design is sleek and current, and the passenger compartment of the 2017 Corolla iM is similar to elements of the Corolla with an innovative dashboard, with ergonomic design of controls and easy to read gauges. As for the exterior, the redesigned 2017 Corolla iM has cutting-edge aerodynamic design, highlighting its distinctive signature front end.
Cutting edge
For technology lovers, it offers Bluetooth connectivity, alloy wheels, dual-zone climate control, heated seats and Rear-view Monitor.
The 2017 Corolla iM can comfortably seat five of your friends by providing ample space and leg room to spare, in addition to offering versatile cargo capacity more than sufficient to meet your needs during your short and long excursions.
Read-to-go comfort
The 2017 Corolla 2017 iM is surprising on two accounts. It continues offer its renowned quality, durability and reliability that has made it the vehicle of choice for so many Canadians year after year. In addition, it also includes new standard safety features, an essential asset for years to come. The only logical thing left to do is to make an appointment for a test drive, so you can see for yourself all of its exceptional attributes!
Gallery