Discover the 2018 Toyota Highlander!
October 06 2017, Richard DesRochers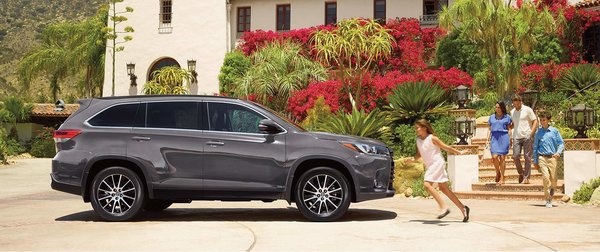 The 2018 Toyota Highlander is a three-row SUV that can accommodate up to eight passengers. This is Toyota's entry into a highly competitive and fast-growing segment.
It's also one of our favourites, thanks to its versatile interior, impressive safety system and powerful V-6 engine option. In addition, there are several trim levels available: LE, LE Plus, SE, XLE, Limited and Limited Platinum. Another exceptional appeal is that most can be ordered with a hybrid gasoline-electric powertrain.
This Highlander Hybrid is one of the most fuel-efficient crossovers, but most Highlanders are powered by a 295 horsepower 3.5-litre V6 that can be paired with front- or all-wheel drive. A 185 horsepower 2.7-litre 4 cylinder engine is standard on the base Highlander LE with front-wheel drive only.
Designed for Quebec winters
As winter is fast approaching, the 2018 Highlander may be "the" vehicle for the cold season. It's designed to handle a variety of situations, such as driving over small snow banks, parking on snowy streets or after plowing, and even climbing an unpaved mountain off a tricky trail.
What we like about the 2018 Toyota Highlander ...
But what we love the most about the 2018 Toyota Highlander are the details that really matter. Here are some of them:
1. Automatic emergency braking with pedestrian detection, adaptive cruise control, active lane control and automatic dipped beam headlights
2. IIHS Top Safety Pick + nod and five stars overall from U.S. federal testers
3. Its comfortable and pleasing interior
4. A logically arranged dashboard, with secondary controls grouped to the left of the steering wheel
5. The Highlander Hybrid, available in LE, XLE, Limited or Platinum, uses a version of the same V6 coupled with a 45 kW nickel-metal hydride battery and two electric motors.
In short, a vehicle with a sober and intelligent appearance enhanced with undeniable reliability. It's always best to test drive a vehicle before buying it. How it drives will convince you in terms of safety and convenience!
To arrange a test drive, please call 1-855-398-9581!