By 2050, Toyota will market a hybrid or electric only product line!
October 16 2015, Marie-Andrée Boisvert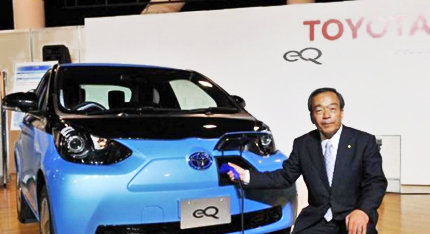 This week, Japan's No. 1 automaker announced with great fanfare its Environmental Challenge 2050.
This week, Japan's No. 1 automaker announced with great fanfare its Environmental Challenge 2050. This long-term plan is to offer customers vehicles that are fully hybrid, or use fuel cell or another green technology! Driving green includes the Prius, the pioneer of the hybrid car, which has made a big splash in the marketplace.
The 2050 Environmental Challenge
The key objective of the 2050 Envrionmental Challenge is to reduce vehicle CO2 emissions by 90% to help limit global warming caused by the greenhouse effect. And by 2020, the Japanese giant is expected to sell 1.5 million hybrids per year globally, an achievement that will no doubt please environmentalists in all sectors!
Building on hydrogen
Toyota also has in its sights the technology to produce electricity from hydrogen, as these cars would emit solely water vapor. The group aims to bring to market roughly 30,000 cars of this type by 2020, 10 times greater than the target of 3,000 per year in 2017.
Investing in the fuel cell
What's more, since 1997, the year of the launch of its first hybrid vehicle, Toyota has sold over 8 million hybrid cars, making it one of the largest manufacturers in the world. The company continues to invest in the fuel cell, particularly with its latest model launched in late 2014 in Japan, the Mirai. This promising small-scale vehicle should see its production accelerate in coming years.
More than 5,000 patents for green technologies
Building on green technology, Toyota holds 5,680 patents and technologies whose use by third parties is offered free in order to accelerate the adoption of fuel cell cars and the development of infrastructure needed to supply hydrogen. We salute this automaker's determination to raise awareness and make the world an eco-friendly place.
Discover our green hybrid vehicles for yourself:
Gallery