Another Toyota award: The TOYOTA PRIUS wins the 2017 AJAC Canadian Car of the Year Award
April 14 2017, Marie-Andrée Boisvert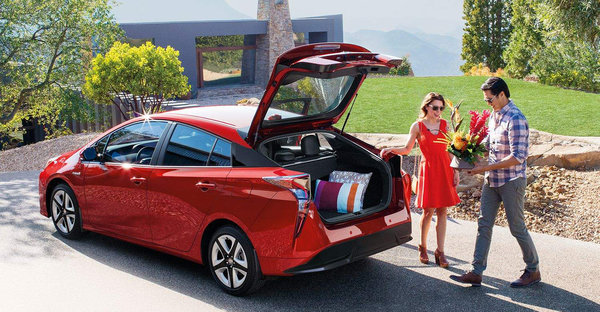 The 2017 Toyota Prius won the Canadian Automobile Journalists Association of Canada's...
At a press conference in Vancouver on March 28, the 2017 Toyota Prius won the Canadian Automobile Journalists Association of Canada's (AJAC) top honours for the Canadian Car of the Year for the year 2017.
At the last Canadian International Auto Show the annual award was presented by Regina Chan, a recognized automotive journalist and member of the AJAC.
Green vehicles
In order for a vehicle to qualify as an eco-friendly vehicle, the car must be more fuel-efficient than other vehicles in its class.
However, the Toyota Prius meets and exceeds the numerous selection criteria and was therefore chosen from among three finalists.
What they say about the new Toyota Prius
The new 2017 Toyota Prius has benefited from a redesign of the latest 2016 model. Primarily, its interior and exterior design have been improved, as well as its driving dynamics and performance.
However, the Prius's biggest asset is essentially exceptional fuel economy. In addition, its hatchback is practical with plenty of storage space.
Inside the Toyota Prius, the seats are redesigned and more comfortable and are now available with an 8-way power adjustment in the uplevel trim group. The Prius also has automatic LED lights, heated mirrors and keyless entry for the driver's door. The 60/40 split rear seat has a folding armrest.
The Prius and modes of driving
The 2017 Prius offers three modes of driving. EV Mode, designed for short distances that uses electric propulsion exclusively. Eco Mode optimizes fuel consumption and the air conditioning system. Finally, PWR Mode allows you to draw maximum power of the engine when needed. For greater economy, the Prius uses regenerative braking technology to recharge the battery.
In short, with the Prius, you always benefit from exceptional build quality and reliability unique to Toyota. It also provides a quieter cabin and an ultra-safe car with the Toyota Safety Sense suite.
To test drive it, please contact us at 1 855 398-9581.
Gallery