2019 Toyota Corolla Hatchback and Avalon, they have everything to please!
August 10 2018, Richard DesRochers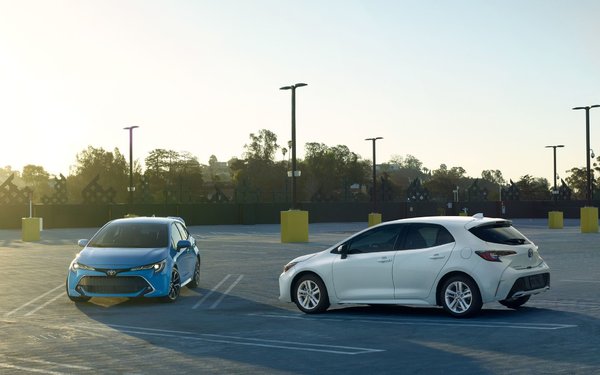 The newest member of Toyota's Corolla family was at the New York Auto Show in March 2018. For those less knowledgeable by car, this is the integrated 5-door sedan.
In short, Toyota has happily decided to take advantage of its reputation and add a 5-door model. For Toyota enthusiasts, this translates into a car 25 millimeters lower and 40 millimeters wider. Better yet, it is said to be the perfect car for all generations. Here are some key points to discover the car in every detail.
The interior of the 2019 Toyota Corolla Hatchback and Avalon
Toyota describes the interior of the Corolla Hatchback as simple and warm, its understated interior features sport seats and a neat dashboard that offers a high resolution, open, harmonious and standard multimedia touch screen. The high-gloss materials are silver accents paired with black tones and contrasting stitching.
The infotainment and connectivity capability of the Corolla is not lacking. On the SE grades, the standard Entune 3.0 audio includes an eight-inch touch screen, six speakers and Apple CarPlay. Entune 3.0 Premium audio, standard on the XSE hatch, adds HD radio and weather / traffic information, as well as satellite radio and also hides Entune 3.0 connected services, GPS navigation, dynamic POI search and connection assisted.
A renewed powertrain
A new 2.0-liter Dynamic Inline Direct Injection four-cylinder engine replaces the previous 1.8-liter four-cylinder engine. The 3.5-liter V6 is smooth, powerful and perfectly matched to an eight-speed automatic transmission. Nothing to do with the Avalon of your grandparents.
Auto Guide Specialists mentions
In the Car Guide on the Web, experts mention that it has downgraded its competitors in the large sedan segment in the best buys section of the 2019 Car Guide.
The outstanding reputation of the Corolla and our dedicated advisors await you, all you have to do is take a test drive. To do this, contact our team at 514 453-2510.
Gallery