2019 Toyota 86, an authentic sports coupe for an exhilarating ride
August 03 2018, Marie-Andrée Boisvert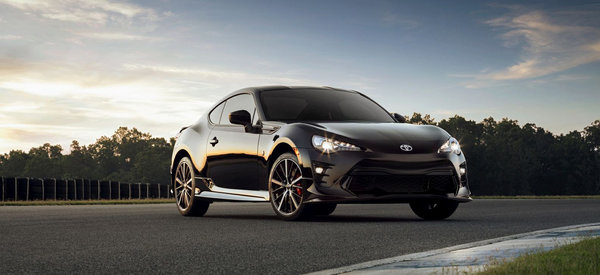 Recently, Toyota proudly announced its sports coupe, the 2019 Toyota 86. Its fiery 4-cylinder opposed flatbed engine with rear-wheel drive is characterized by exceptional stability and agility.
With an elegant silhouette and generous equipment, the Toyota 86 is as comfortable on the commute as on a circuit. And for 2019, Toyota Canada is offering an 86 TRD Special Edition with even more dynamic performance and style. This is what the 2019 Toyota 86 enjoys this year.
Highlights of the 2019 Toyota 86
The 2019 Toyota 86 boasts better handling and a custom look and a special edition 86 of 2019. The car also gets bigger Brembo brakes (12.8 inches at the front with four-piston calipers and 12.4 / two rear calipers), Sachs shock absorbers and Michelin Pilot Sport tires, 4 aerodynamic features and mid-90s trims for an aerobics instructor wearing a headband and leggings.
The 2019 Toyota 86 Special Edition joins the standard 86 and 86 GT comfort trim levels as the high-end, limited-travel, limited-edition of the line of fun sports machines.
An improved cabin
The cabin has also been upgraded to include a new red and black steering wheel wrapped in red contrast stitching. The standard support seats complete the look with red and black trim, while the dashboard has a suede cover for softness to the touch. The TRD logo has been added as an embroidery on the passenger side dashboard, and there is more red contrast stitching elsewhere in the cab, as well as red seatbelts.
The driver information screen again offers a 4.2-inch TFT multi-information display, which includes data such as a dynamometer, engine output levels, and more.
To try it out, please contact our team at 514 453-2510!
Gallery